Bottom line –
No matter who you are, what your problems might be you can change.  There are only 2 things that will keep you from that change. 
Your lack of willingness to put in the work for that change
A plan that works
I used to think it was impossible to make changes in my life.  When I turned 30 I was the definition of being unhappy and being out of shape.  I was at the end of my rope.  In a losing battling of addiction, in terrible shape, surrounded by bad people and as for me I was arguably worse.
It started with changing my body, mind and learning a new way to live-
First – I needed to treat the immediate I needed to stop putting mind or mood altering chemicals in my body, that included alcohol.  Believe it or not that allowed a lot of things to clear up.
Second – I needed a physical separation from the people in my life who weren't the best people.
Third – I needed to look at myself and start living a new way of life.
Once I was able to get some stability I was able to start getting in shape and it was one of the best things I have done.  In fact I can tell you this, if you're having anxiety, depression or any other issues concerning mood, after you consult a doctor try cutting processed sugars and gluten out of your life and see how you feel after 30 days.   For me I noticed a massive change with my mentality.   At 35 my mind feels like it once used to as a teenager.   For years I felt physically and mentally lethargic and had forgotten the feeling of natural motivation, ambition and happiness.
This is one of the reasons why I wanted to start the 30 Day Lifestyle Challenge.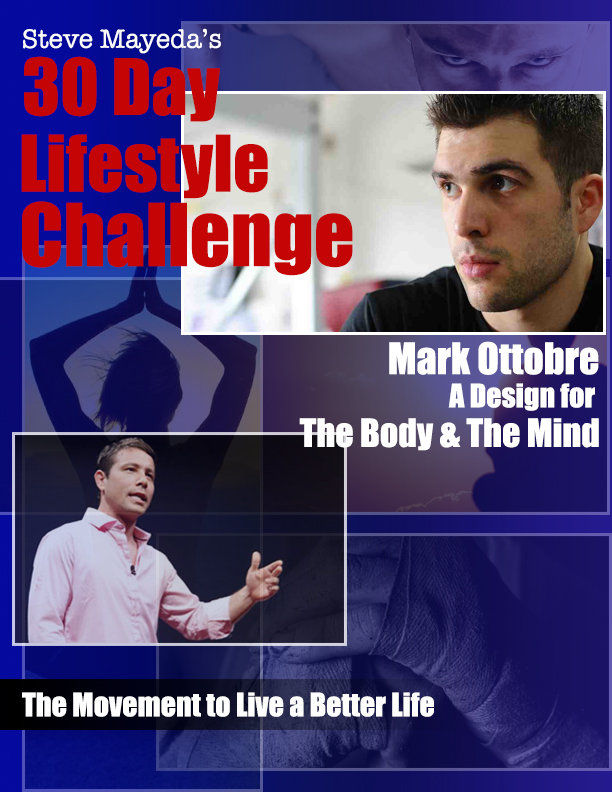 The 30 Day Lifestyle Challenge has one goal – 
For you to live a better life.  It is a movement where we can all realize no matter where we are at in life we can make a change.  Our purpose is to promote that and give  you the resources necessary to make changes in your life.
It is not a Quick Fix by any means.  Real change happens by consistent and normal actions.  You need to live the life of a healthy person to be a healthy person.  For 30 days you can try something new, be consistent and see some results that can be moved into a way of life.
In the 30 Day Lifestyle we will work with one of the world's leading experts on Health, Mentality, Lifestyle and Sex and Relationships.  That expert will give us a 30 day plan, and we will do it for 30 Days.
Today Maria and I are stating world renowned fitness trainer Mark Ottobre's plan for living a better life.
It is a design for a new way of life
Live Better
Get in Shape
Eat Real Food
You can view that plan at our resource page – Click Here 
For 30 Days I have a 'Way of Life' to follow (as Mark put it) –
Workout plan that mainly revolves around weightlifting
Lifestyle and Mentality plan to maintain positivity, proper rest and perspective
Diet plan to eat the proper nutrition so my body can function properly
I have been doing the diet part of the plan for about 6 weeks.  In that time I have lost over a pound of fat a week and gone down from a 33inch pant size to a 30inch.   Now it is time to push it with the exercise.
The 30 Day Lifestyle Challenge is not just for me, but for you!   It is a movement to Live and Better Life.  You may not be able to do the exact plan as Maria and me, but you will be able to do something.  I want you to commit to this.  I want you to commit to a level of change with your body and mind.  You can base it off Mark's plan he designed for me, or you can come up with your own.  Any action is better than no action!
Here is what you need to do
Be a part of the Movement  – 
'Like'

the page so you get updates and you can be a part of the process
Post what your goal is and how you're going to achieve it – Exp "For 30 days I am going to stop eating gluten and workout 2 times a week by walking for an hour."
Stay active for 30 days and make a difference in yourself. 
If you want to try Mark's plan I'd encourage you to read through it and see if it works for you.  If you can't do it all try part of it.  Try the diet part, try the exercise part or even try the sleep and supplementation recommended.   The bottom line and the only goal for The 30 Day Lifestyle is for you to live a better life.
If you can do that…
Let's do it!
To View Mark's Plan, Contact Mark or find out More Information about him check out this resource page – The 30 Day Challenge – 1 – Mark Ottobre
http://thesexuallife.com/blog/the-30-day-lifestyle-challenge-1-mark-ottobre-resource-page/
It's time to kick some ass!
Steve
As always we appreciate your comments!