The Pathless Path
Barcelona, Spain
June 26, 2012
I started out this trip not knowing where to go.
No plans, nothing…
To be honest I am not really sure where it is going to take me and I don't have any expectations either.
When it comes to living life you need to take action, put your foot on the path.
It is only then that you can truly live.
Seduction is the same way, you must take action to come to know it.
The Problem –
Searching for the Identity in Technique
We need to find our technique within Identity.
This is something that (sadly) is completely unique to how I teach.
You need to discover yourself in order to communicate yourself.
As long as you want the best Social and Sexual life possible you're going to have to interact with yourself and not your façade (the reaction to your fears).
I just came back from speaking at the 21 Convention and as awesome as it is to speak there I forget how 'out of the loop' I am from the Seduction Industry.
Everyone was asking me about the right routines, the system, the specific things that will get 'the results'.
This mentality is so far from my reality it takes me a while to process what's being asked…
A man is in his natural state of true masculinity comes out when he is sexual.
If you're truly communicating on a sexual level then it is impossible to be unauthentic.
The same goes for a woman.  Her sexuality defines her entire sense of being.
Check out this diagram >>>>>>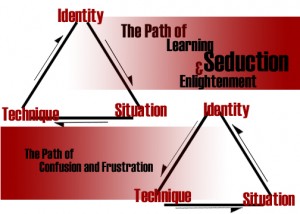 The Solution –
As men who want to be their best selves we need to mix the 2…
We need to learn how to get unison with our raw sexuality living a Social and Sexual life we can be proud of
And
We need a path to follow.   We need a map or a system.  Technique isn't bad, but technique without a sense of self and pride will turn our masculinity into a battle within ourselves rather than an expression of ourselves.
Seduction is a Pathless Path.
We need to find the points on it rather than try and redefine it.
I started telling the guys at the convention about this and 6 of the guys were asking me if there was a more affordable way to learn this stuff.
The Mastermind Program is coming up but it was out of their league financially.  
I have been working with some groups in Austin and we have managed to do just that.   I call in The Austin Seduction Project.  If you live in Austin then you're lucky.
If you want to drive to Austin once a week (Saturday) then hit me up.
Email me – steve@thesexuallife.com
I team up with my partner Janelle (hot chick from my videos) and a few other women and we have the most dynamic and exploratory program out there.
I have never seen men make more growth in all of their life in any other program I have done.
Not only have they grown into guys that can connect with women sexually faster than pretty much anybody else out there, they can do so while truly being themselves.
More importantly they no longer have fears or anxiety about sex.
Things like Approach Anxiety or Escalation Anxiety are a different language.
Believe me, many of the guys have had to push through these things, but ultimately they learn to communicate with their masculinity and be sexual rather than think and talk about it.
Here is what I want to know
Would a group like this, if brought online, be something you're interested in.
The is a New Austin Seduction Project Starting and I want to take it online
4 Month Program
Not quite sure of the price – Most likely ranging from $150 – $300 (still haven't figured that out)
The group is this
12 Live Seminars (Saturday 2-3 Hours a piece Videotaped)
12 Group Calls – Weekly and Direct Interaction 
20 Assignments
4 Seduction and Intimacy Seminars (2-3 Hours also Videotaped)
With our live group there is also infield, however, this I couldn't do online.   But that is also why it would be more affordable.
I was thinking about making it called The Sexual Life Online –
I NEED 20 Guys!!!!
However in order to do it I need 20 guys enrolled.
Believe me everyone will get personal attention, but I need 20 as an experiment.
Last Mastermind Group started with 10 and 7 stuck around.  Those 7 guys made huge life breakthroughs.
I need more people to work with to know what works and doesn't work with my teaching online.
Also the material I am teaching is so different, coming from some really different core perspectives and I want to see how they go over.
If you're interested email me ASAP – Don't worry about price just yet.
If you're interested is what I want to know – steve@thesexuallife.com
click  here and let me know you're interested. 
And if you live in TX and want to make the drive to Austin on Sat also email me (if you miss some here and there we will work it out)
I really want an Online Program that is Affordable and has the power to truly transform you into a Seductive Man!
For now…
Gotta go hit the Barcelona Streets!!!!
Later
Steve Mayeda