TSL Quick Lesson 1 – Limiting Beliefs "Mistaken Identity Ex"
Sign up on Our NewsLetter – Get Daily Videos, Free Lesson Plans & All the Resources Necessary to Be the Better Man!
For many of us we fall into the trap of failure through Limiting Beliefs. Deep rooted beliefs are within hard to overcome, and hard to find.
We know what we want, we work for it and may even achieve results…however we get stuck in failure after failure and build up anxiety and negative beliefs.   TSL Online is geared to not only teach you the Social Dynamics to make connections Socially and Sexually but it is so that we can be the Best Man.  When we are the Best Man, we can live a life where, what we want comes to us!
Download Today's Lesson –
TSL Online Quick Lesson 1 – Mistaken Identity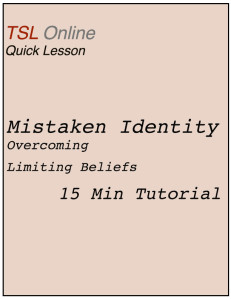 This is what this TSL Online Quick Lesson is here to do!
Watch the Video
Download the Assignment Sheet!
Let me know how I can help you out more!
Steve
If you Like what you see…
Sign up for TSL Online – At Home Intensive
Dive Deep for 90 Days!