By Steve Mayeda
An excerpt from
TSL Online Lesson 2 – The Anatomy of Attraction
Over 100 Pages of a whole new model philosophy and application to meeting, attracting and seducing within a lifestyle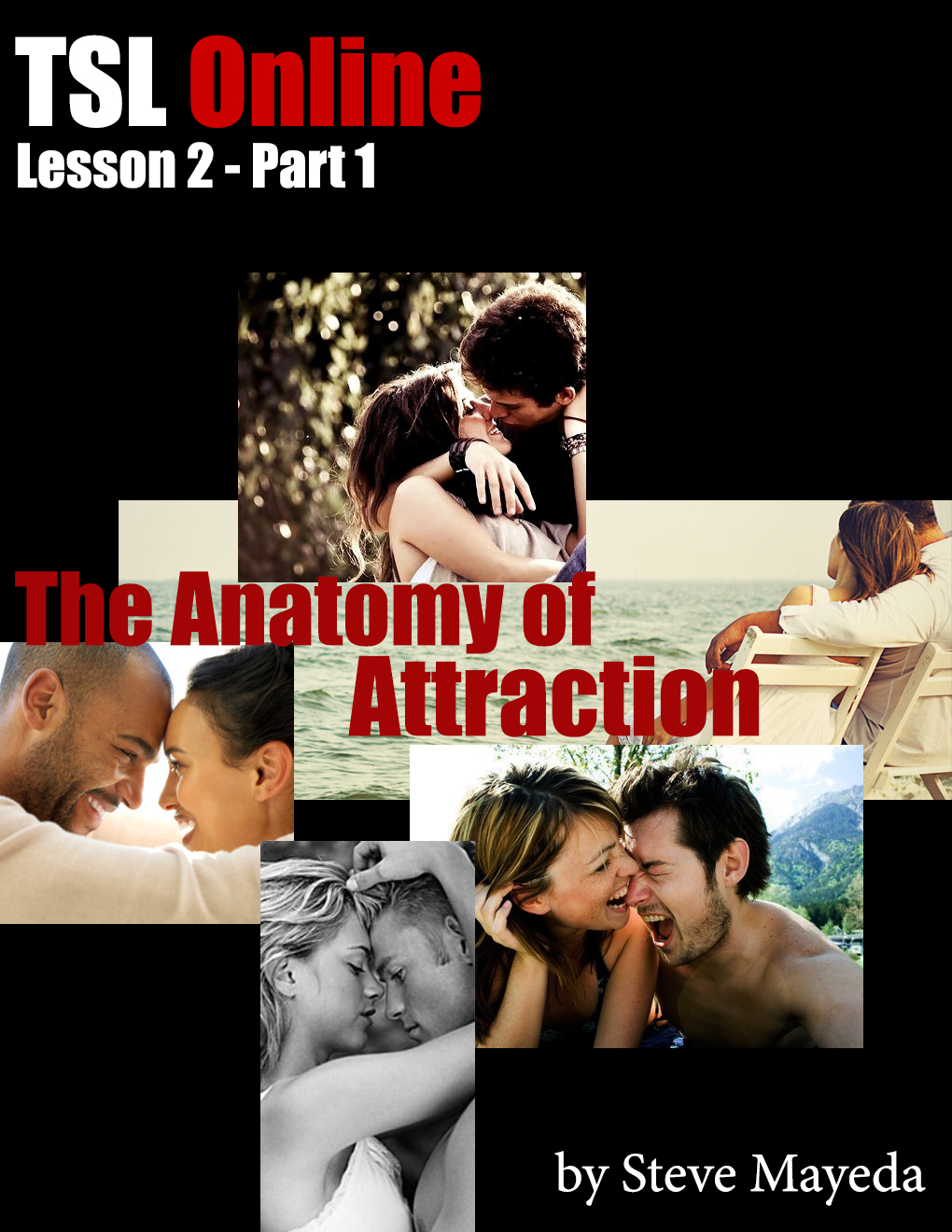 To see what TSL Online is all about Click the Fancy Red Button Just Below – 

***************************************************************************
From Lesson 2 the Anatomy of Attraction – pg 12
The Myth of Value
Attention vs Attraction
My buddy Jason lived in a van.  He would drive around the country and see bands play, work odd jobs and get laid.  In fact he would get laid a lot.  I would be pressed to say that I knew anybody that got laid more than him at time.  We all have our high points, but let's just say Jason had a lot of those high points.
He had very little, was a pretty clean person but he never acted like anything he wasn't.  What he did know was how to do was seduce women.  He was heavy into NLP and charismatic, he was no doubt a sexual man, and not afraid to be that.  It would not be a stretch to say that Jason was the opposite of what the Dating and Seduction Industry said you needed to be to meet women, and he was better than everyone I knew in that industry.  He was better at meeting women, seducing them and even getting them to take care of him.  When people are trying to sell you in this industry they always talk about these crazy sexual experiences with women.  Jason had those, regularly.  Threesomes, Multiple Long Term Relationships and everything under the sun.   In fact for years Jason eventually moved out of his 'Van' lifestyle and lived in an Apartment, in the same building I too had an apartment.   He never paid rent, one of his women paid rent.  Jason was the opposite of a Pick Up Artist, he was a Seducer and he ultimately taught me the difference between the 2.  A Pick Up Artist is a performer seeking validation and a Seducer loves women and exchanges with them.   A few of the fundamentals of being a Seducer meant you had to get rid of your animosity towards women as well as know and express yourself.
He never did this to achieve some level of acceptance from guys online in the PUA (pick up artist) Industry, he did this because he loved women, and they loved him.  Jason also came up with one of the best speeches I have ever seen from anyone in the industry.  When I saw this speech he gave it in Austin, and then a week later he gave the same speech in Sweden for the 21 Convention.  I think the Austin Version was better, but here is the one given in Sweden –  http://www.youtube.com/watch?v=wiQm1PhCc2U
His name was Jason Savage and he was one of the many examples of guys who knew that Myth of 'value' or 'social value'.  One's 'social value' had nothing to do with sex.   Read his blog here – read his blog here http://gonesavage.blogspot.com/, he hasn't updated it in years, but its some solid stuff.
Anyone who tells you that social value or value turns women on has no understanding of sex and the sexual nature of woman, themselves and humanity.    I would also say that anyone who decided to sleep with me because of my social value would be someone I probably wouldn't like, eliciting an experience I wouldn't like.
In my entire experience in the Seduction industry I have been fortunate to have a constant thread of mentors teaching me this.  The key to turning a woman on, making friends, and having the best sex of my life had  nearly nothing to do with –
Demonstrating higher value
Social proof
The clothes I had on
The fake stories about my life
But having the best sex, with the best women and having the best adventures had everything to do with –
Me Asserting Who I Was
Being Sexual
Wanting to Elicit that Woman's Sexuality
Escalating sexually with that woman rather than 'on that woman'
Those age old PUA tactics value based got me 'attention' and 'reactions'.  They have nothing to do with exchange, turning anybody on or anything to do with sex, fulfillment and being a human.
I will always say that it doesn't matter how I look, how well groomed I am or whatever situation life has given me, I can always meet women I like and find attractive.  Why?  because 'social value' does not matter.  Connecting, rapport and seduction matters, because we were made for them.
In TSL Online we are not learning how to build a false front of value, but we are learning how to be proud of ourselves and knowing that the value is in the expression of that value.  Imagine having women, friends and lovers interacting with you directly.  Image women having sex with you for you, orgasming for you and loving you.  This is what we learn, live and do at TSL.
*****************
If you Liked what you read post a comment and share it on all the cool sites!
If you want to know more about TSL Online read below or click that fancy red button again –

TSL Online is an Online, Full Service Coaching Program geared towards you living the
Best Social Life,
The Best Sexual Life
The Best Lifestyle
There are 6 Workbooks we Teach From, as well as host over 5 Hours of Interactive Calls a week, Video Lesson and much more.
Those 6 Workbooks are – It is over 300 Pages of Material
The Identity Workbook – Download it HERE
The Anatomy of Attraction – How to Connect, Attract and Seduce through Conversation
Rapport Cycling – The Ultimate Guide to Connection and Rapport
Storytelling – How to Seduce, Captavate and Engage through Telling the Story of Your Life
The Nature of Seduction – The true path of Seduction and Application
The Nature of Escalation Part 1 & 2 – The Emotional, Psychological and Physical Path to Turning a Woman on and having the Best Sex of Your Life
For now –
Be Social
Be Sexual
Live Life!

Steve